Posted on July 26 2021
The list of places a gas fireplace can be placed to transform the room in your home has grown in leaps and bounds.
With gas fire technology continually evolving, we're seeing more and more boundary pushing designs pop up every day. Thanks to Escea's flexible flue technology, you can put a gas fireplace virtually anywhere in the room. In fact, you can put in a gas fire in virtually any room.
From bedrooms to backyards, we can't think of a space that wouldn't be better with a gas fire…
From bedrooms to backyards, we can't think of a space that wouldn't be better with a gas fire…
Why not make use of those beautiful old open fireplaces found in the bedrooms of so many Victorian villas? The Escea DF series are a renovator's best friend, with 3 different sizes, you'll no doubt find one perfect for retrofitting into your existing fireplace. Not only does it complete the old fireplace, it's a great companion for those early nights watching Netflix in bed with a cup of tea.
Replacing an old open wood fire with a new, efficient gas fire is a great way to restore the story of these spaces and give them purpose again, as well as making your bedroom even more inviting than it already is!  
Escea's flexible flue technology makes retrofitting easy, with flues that can be run right up the existing chimney. This install features the DF700 gas fireplace, our most universal retrofit fire, fitting into most existing fireplace cavities.
The kitchen is widely acknowledged as the heart of the home. Its where we enjoy a glass of wine while we prep dinner and talk about our day. Its where we connect in the morning over a cup of coffee and toast. We spend so much time in their, it's time to put the fireplace back in the kitchen.
With space and storage in kitchens often being hot commodities, you might think there isn't any room to add a fireplace. Escea's flexible flue and zero clearance technology encourages bespoke designs that showcases clever use of space. A fireplace built into an island bench creates an unexpected and unconventional design element in the kitchen, while at the same time, warming the space and beckoning the family convene and converse.
This install features the Escea DS1400 doubled sided gas fireplace, installed into the kitchen cabinetry with our flexible flue being run right under the floor! Just make sure you refer to our sealed cavity design guide to ensure you're installation is fully compliant.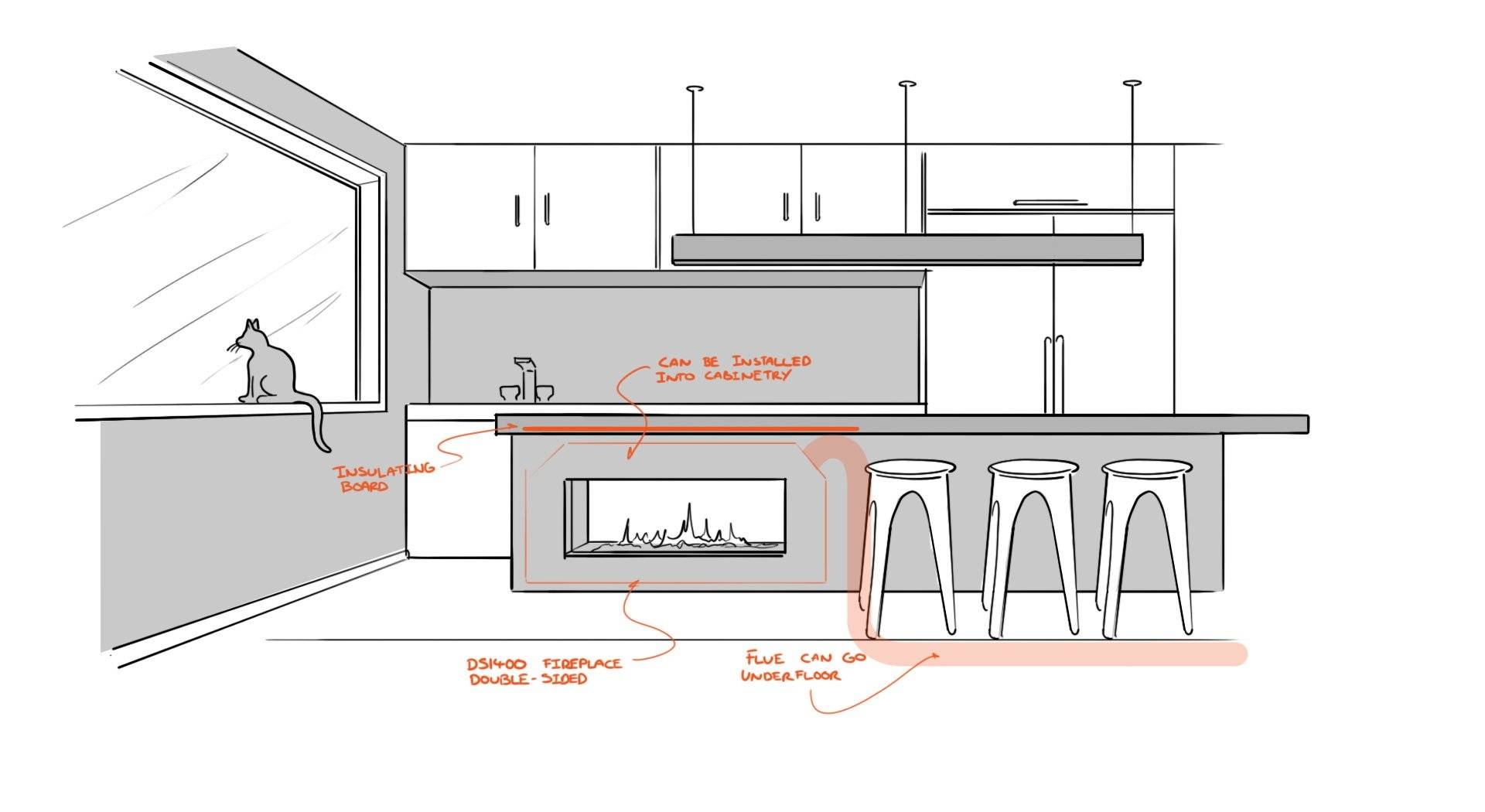 The home office used to be a place where we stored files and printed off important documents every other weekend. Now, with an increasing move towards remote working we're finding ourselves spending a lot more time in the home office, so why not spruce things up a bit?
The working day can present all kinds of challenges, and we know that being near flames can significantly reduce stress and coax us into a place of calm when we're feeling overwhelmed. So, putting a fireplace in the office is likely to have a positive impact on your over-all wellbeing, as well as looking great!
This install features our DF960 gas fireplace installed directly below shelving, with our flexible flue being run to the left, avoiding both the shelving and built-in desk space.
There's nothing we Kiwis and Aussies love more than spending time in the backyard. Often, you'll find us out there with a warm mug in our hands and a rug over our laps, taking in the last of the daylight, or enjoying the southern cross even in the cooler months.
With international travel limited for the near future, a lot of us are investing in their homes and creating spaces of retreat when they can't escape to the islands, or jet away for a European summer like they used to.
Installing a fire outside is a great way to make your outdoor area a true extension of the home, and a space that can be enjoyed through the seasons.
With our EF5000 outdoor gas fire there's no need for a flue, so installation is really simple. In this design, the EF is installed on the exterior wall of the home.
We all have that room in our house where we go to disconnect. From our devices and from life in general. Often it can be a meditative space which encourages relaxation, full of things that encourage calm and creative rest – like books, puzzles, and artwork. Studies show that flames have a similar effect, lowering blood pressure and reducing stress so where better to put a fire than in this space?
The integration of flame into bookcases and shelving is becoming increasingly popular amongst architects and designers – not only does it bring flame and fiction together, its an engaging feature that brings dimension to the room.
In this install our new DF990 gas fireplacehas been installed beside the bookcase, with a custom mantel surround – giving it the old-world charm of an old open woodfire. Our flexible flue is able to be run right behind the wall which has been decorated with artwork – adding even more intrigue to the room.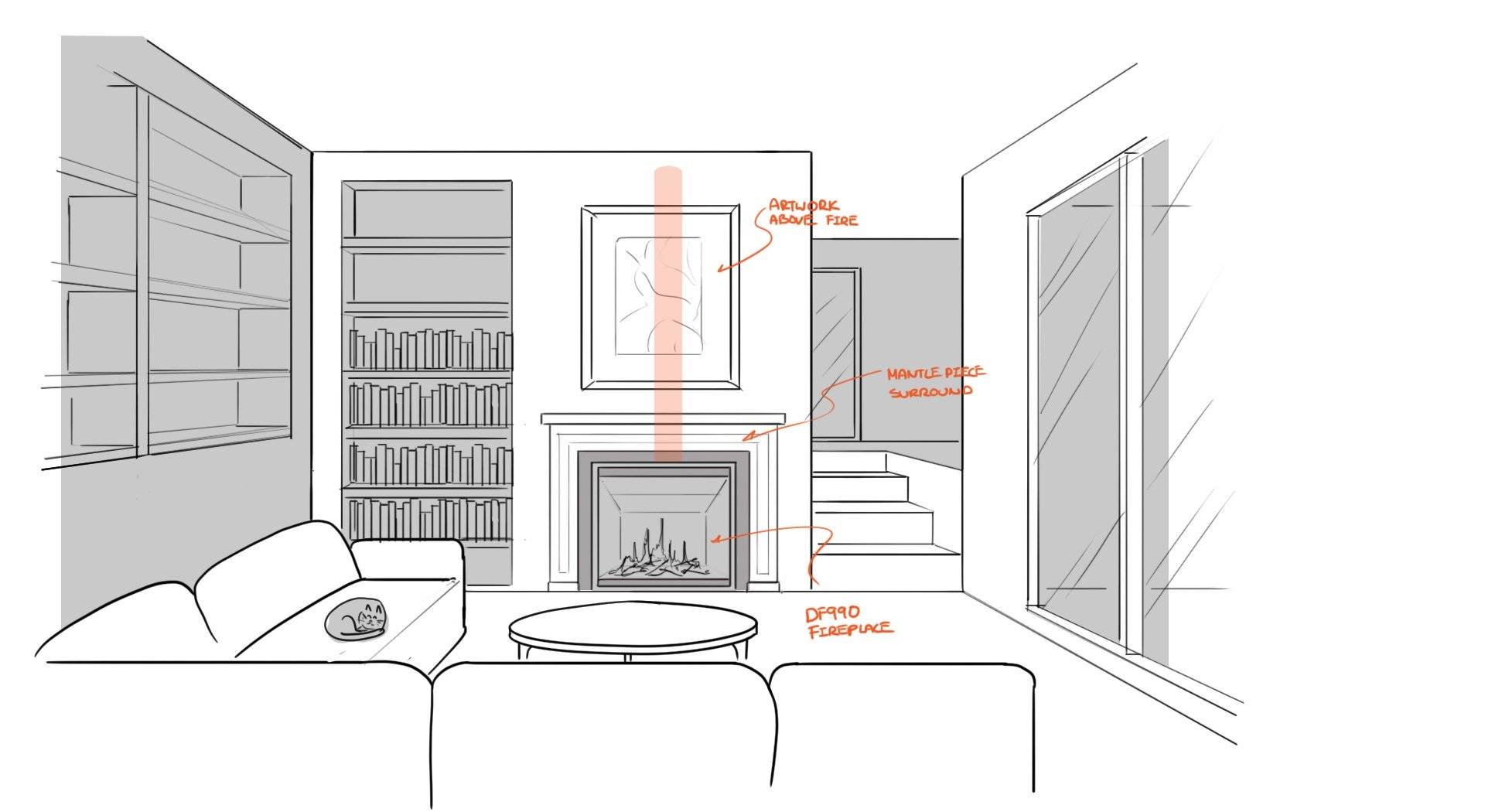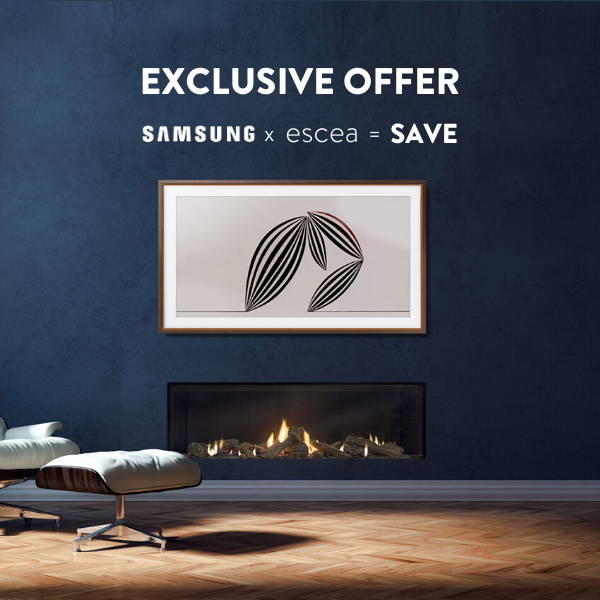 SUBSCRIBE FOR EXCLUSIVE 
SALES & PREVIEWS
Be the first to know about VIP sales and promotions.